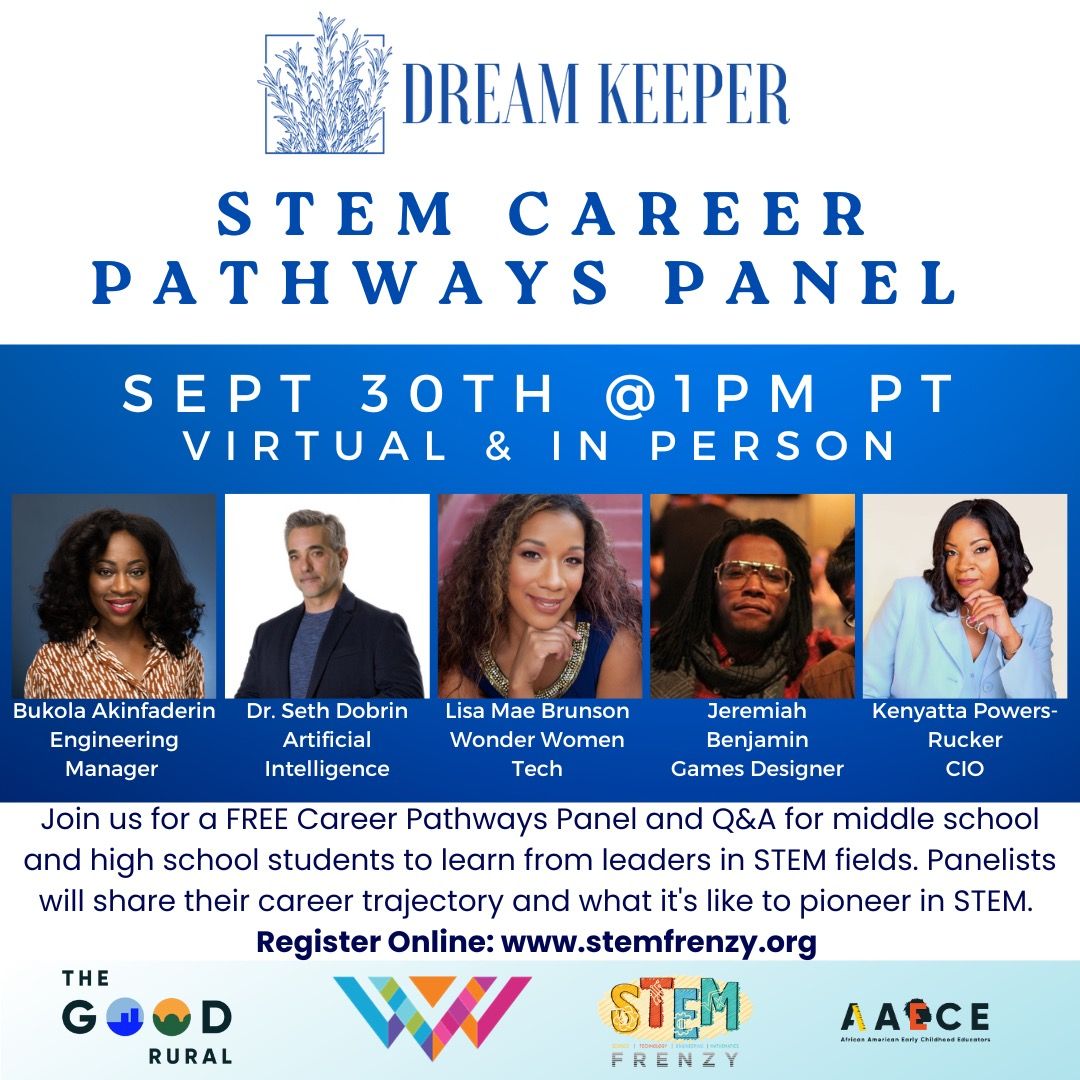 STEM Career Pathways Panel for Middle School & High School Students
8
8 people viewed this event.
Join us for a FREE and Virtual interactive STEM Career Pathways Panel and Q&A event for Middle School and High School students!
Presented by San Francisco's Dream Keeper Initiative/Human Rights Commission and in partnership with The Stem Frenzy project, an African American Early Childhood Educators (AAECE) inspired project of the Good Rural, a San Francisco-Based Non Profit dedicated to serving the underserved youth and their families. The STEM Panel speakers is curated by Lisa Mae Brunson at Wonder Women Tech.
The goal of the STEM Career Pathways panel and event is to provide opportunities for students to learn from leaders and professionals in STEM fields about their roles and how they entered into their fields. Panelists will share their educational and career trajectory and provide insight into what it's like to pioneer in STEM.
The free event also provides opportunities for virtual and inperson mentorship, empowerment and inspiration for students to consider entering into these fields.
We will discuss pathways for pursuing STEM careers, and offer an interactive Q&A session after the panel discussion.
DATE: Saturday, September 30th, 2023
TIME: 1:00 pm – 2:30 pm (Panel and Q&A session will be one hour)
PLACE: Virtual via Zoom and select in person community and education centers.
PANELISTS:
Moderator: Lisa Mae Brunson, Founder and Chief Visionary, Wonder Women Tech
Panelist: Bukola Akinfaderin, Engineering Manager at Carvana
Panelist: Jeremiah "Flip" Benjamin , Founder, 88 Ideas Design and Gaming Lab
Panelist: Kenyatta Powers – Rucker, Chief Information Officer, Maryland Department of Human Services
Panelist: Dr.Seth Dobrin , Former Chief AI Officer, IBM, Founder and CEO, Qantm AI
Students will be encouraged to reflect on STEM careers after the event and engage in future opportunities for panel and Q&A events.
Parents are welcome to participate as well!